KNOWLEDGEABLE GUIDANCE FOR ESTATE PLANNING AND PROBATE
The Law Office of Virginia Lee Perez can assist clients with estate planning and probate matters in Miami-Dade and Broward county. Whether you have an existing last will and testament and/or other estate planning documents already or if you are looking to update them, Mrs. Perez can help you see that your wishes are met. Also, if you are beneficiary of an estate, Mrs. Perez can confidently guide you through Florida's probate system.
Wills
A will can help protect your estate and family during any time of life. At the Law Office of Virginia Lee Perez, P.A., we provide representation for clients faced with will issues in Miami-Dade and Broward County, Florida. Our experienced attorney understands all aspects of estate planning, including wills.
It can be difficult for our clients to consider making arrangements for wills and trusts but proactive planning can prevent many problems in the future.
Legal requirements vary from state to state. Florida requires that two witnesses and a notary attest to your signing of the will.. Drafting a will in accordance with the laws of Florida can ensure that property is handled in accordance with your wishes in the event of death.
For wills that have already been drafted, it is important to make amendments to reflect major life changes such as divorce. We recommend that our clients have a periodic review of an existing will every 10 years.
Flat Rate Wills
We believe that everyone should have a will to plan for the future. We offer quality legal services that consider the tight budgets our clients face today. Cost-effective options we offer include mirror image wills for spouses, as well as flat rate packages with discounts for couples.
Power of Attorney
A power of attorney gives another person authority to temporarily or permanently act on your behalf. Our lawyers are skilled at drafting powers of attorney to withstand challenges from other family members. Powers of attorney are valuable legal tools and we draft several different types, including:


Health care powers of attorney: In the instance of incapacitation, other individuals can make health care decisions.
Financial powers of attorney: While an individual is away on military assignment or other matters, financial accounts and billing are handled by a spouse or other designated person.
Durable powers of attorney: The designation of another individual to handle financial accounts if illness or age causes permanent incapacitation.
Advance Directives
Emergency situations are often difficult times for family members to make decisions, and planning in advance can lessen the burden placed on others in stressful times.  Advance directives are a perfect way for you to let your friends and family know your wishes regarding end-of-life care.  The Law Office of Virginia Lee Perez, P.A. can aide you in having your wishes carried out.  We offer assistance with:


Living Wills
Powers of Attorney
HIPAA Agreements
Health Care Surrogates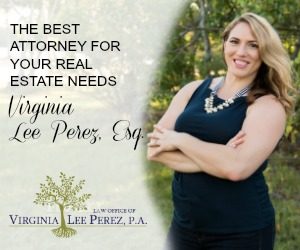 Latest Posts Widget